Switch on the automatic scene selection by choosing one of the following video paths.
The Hijack
Pirate versus Captain during hijack
After the Hijack
The aftermath of the hijack
Before the hijack
Wat happened in the years before
More perspectives
Other people on hijackings
Off: No auto selection
Video Stops every scene
LastHijack Interactive
Is an online transmedia experience about piracy in Somalia. The interface allows users to view the same story from multiple perspectives.
Datavisualisations
· Hijacks around Somalia
· Money Flows
· History of Somalia
· Illegal Fishing
Walkthrough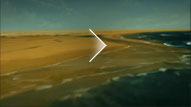 Credits